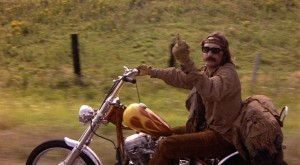 Try as we might, most of us cannot change.
For the most part that's a good thing because brands, countries and movie stars don't mean much to anyone without at least a few folks carrying their thought bucket.
And one thing we know for certain: none of the aforementioned things care much about any of us individually, either.
The vast power they wield exists in our minds only.
So don't go changing, they playfully plead.
Because they know few folks will.
Unless their mind growls.
Thank you, friend.
Barry out.
http://en.wikipedia.org/wiki/Moron_%28psychology%29
http://youtu.be/0kxsviCkS40
Steppenwolf – Born to Be Wild
Get your motor runnin'
Head out on the highway
Lookin' for adventure
And whatever comes our way
Yeah! darlin', gonna make it happen
Take the world in a love embrace
Fire all of your guns at once
And explode into space
I like smoke and lightning
Heavy metal thunder
Racin' with the wind
And the feelin' that I'm under
Yeah! darlin', gonna make it happen
Take the world in a love embrace
Fire all of your guns at once
And explode into space
Like a true nature's child
We were born, born to be wild
We can climb so high
I never wanna die
Born to be wild
Born to be wild
Lyrics courtesy: http://www.sing365.com/music/lyric.nsf/Born-to-Be-Wild-lyrics-Steppenwolf/F101096D10AC4C6748256DD700100BC1
http://en.wikipedia.org/wiki/Brand
http://en.wikipedia.org/wiki/Nationalism
http://en.wikipedia.org/wiki/Idolatry