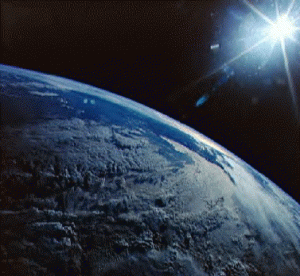 Ninety three million miles is a long way.
Still, 99.999 % of the distance between the sun and earth has less effect than the last 100 miles of atmosphere encompassing our world.
Clouds, devastating storms and all provision for life reside in that teeny space and here the suns rays are transmuted both into disturbances and smooth sailing.

Our individual environment works exactly the same way.
The bright light of financial status, winds of opinion or storms of cultural indoctrination greatly and quietly influence the atmosphere giving rise to our personal reality.

If we are unable to recognize and respond to our own localized weather patterns and their occasional nasty effects, the distance between us and the good life can quickly expand to infinity.
And that's too far to go.
Thank you, friend.
Barry out.
 Oasis – Wonderwall
Today is gonna be the day that they're gonna throw it back to you
By now, you should've somehow realized what you gotta do
I don't believe that anybody feels the way I do about you now
Backbeat, the word is on the street that the fire in your heart is out
I'm sure you've heard it all before, but you never really had a doubt
I don't believe that anybody feels the way I do about you now
And all the roads we have to walk are winding
And all the lights that lead us there are blinding
There are many things that I would like to say to you, but I don't know how
Because maybe you're gonna be the one that saves me
And after all, you're my wonderwall
Today was gonna be the day, but they'll never throw it back to you
By now, you should've somehow realized what you're not to do
I don't believe that anybody feels the way I do about you now
And all the roads that lead you there were winding
And all the lights that light the way are blinding
There are many things that I would like to say to you, but I don't know how
I said maybe you're gonna be the one that saves me
And after all, you're my wonderwall
I said maybe (I said maybe) you're gonna be the one that saves me
And after all, you're my wonderwall
I said maybe (I said maybe) you're gonna be the one that saves me
You're gonna be the one that saves me
You're gonna be the one that saves me
Lyrics courtesy: http://www.sing365.com/music/lyric.nsf/Wonderwall-lyrics-Oasis/558A80BC316AB8E44825686B0011AB3C