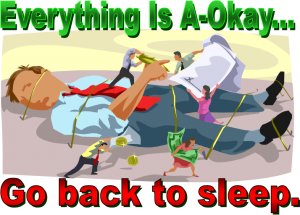 Our skepticism muscles are atrophied.
That's not good because right now there's some heavy belief lifting required in the world.
Today the notion is widely accepted that injecting too much reality into life impedes enjoyment of it by tossing a cold pail of "get real" on our ability to:

lose our minds in dramatic moving pictures of

(insert favorite show/movie)

fantasize about money solving all our problems


pretend that we own/follow/live the BEST of anything

relive the emotional experience of music or love

splish splash in spirituality

Granted, there is absolutely nothing wrong with contrasting experience for short periods though wine, wo/men, and exultation and who has not laughed or cried over a movie and ten dollar popcorn? Nope, suspending our disbelief can be a real benefit in that it allows everyone to calmly chit-chat with old Jerry down at the lotto booth even though the shifty beggar sold us ten bucks worth of useless tickets last week. And the week before that…

For example, here is some incredible stuff folks are expected to believe these days:
Nuke Ding Done – instant hot stuff in little kitchen boxes
Shiny High Flying Tubes – wind engine

buses

leaving hourly

It's A Game! – playing sports for Ten Mil a Year

Still Here – three times dead is really dead but not until

With regular miracles occurring all around us it's easy to see why it's nearly impossible for anyone to suspend their disbelief and this innocently places us between a rock and a hard place. After all, once we're conditioned to suspend our disbelief we'll climb onto whatever reality we're presented as long as it's Walt Disney plus even a fraction of the truth.
The real challenge lies in trying to compute what this exponential growth has exacted from our belief systems over the past two hundred years and to perhaps at least look around and find the hand brake on this unit.
In spite of plenty of evidence to the contrary, many folks cannot suspend their disbelief that:
governments might lean toward self interest above all others

corporations might be irresponsible by design

the truth may not live on television

newspapers sell advertising & may do anything to that end

oil companies may be fixing prices as if they were broken

reality shows could be scripted


at some point it's likely each person for themselves
Happy folks must wear an open mind during fantastic technological and cultural growth but the wheels fall off when we stop questioning our beliefs about what is real good and what is real bad.

And it's up to each of us to figure out what's what.
Thank you, friend.
Barry out.
You might find this hard to believe but something big is happening. Big.