Correction Service of Canada Recidivism Rate 2009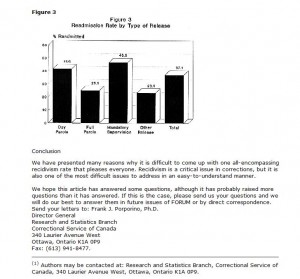 Thirty years ago I was an unwilling guest of the Correction Service of Canada for one long day.
For twelve hours as prisoner number 8675309 I soaked up the ambiance of inmate life.
To exist longer than a flesh in the pen it was obvious to me that I would have to develop a deference to condescending authority and begin accepting the guidance of currently undesirable leaders who actually ran the rooms that could be my world.
My life wouldn't be just upside down it would be scrambled too and
I realized that everyone who ever thought anything of me
Before or in the future would necessarily have to see
A newer, harder, more street smart version of
Myself if I was to continue living with a
Modicum of respect and dignity.
That brutal realization shook
My very foundation and
I knew that my daze
As John Q. Public
Were over if
I stayed.
Thank you, friend.
Barry out.
Dodgy answers about Canada's prison system recidivism rate. Average = 37%
http://www.csc-scc.gc.ca/text/pblct/forum/e053/e053h-eng.shtml