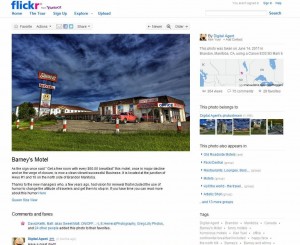 All my life I've gone too far.
Said a little too much. Stayed a little too long. (or not long enough) And done shite I wish I hadn't.
But not all the regretful crap I pulled was bad. Not once people got over the initial shock and things simmered down, anyway.

Still, my shenanigans caused business partners to question my sanity – especially at Barney's Motel.
My sins there were never big but usually overwhelmingly stupid. Like spending $1,000 on a happy face when we had only $9,000 to our name.
Fortunately, this simple and crazy maneuver took us waay out of the room rate race we had been running with our motel competitors and into a human race where few dared to enter.
Hail, even I was scared silly.
In a funny sort of way.
Thank you, friend.
Barry out.
I spilled my guts to a Kentucky psychiatrist once and he went and advertised it. Sheesh!
Rat Here: http://www.natural-humor-medicine.com/workplace-humor.html