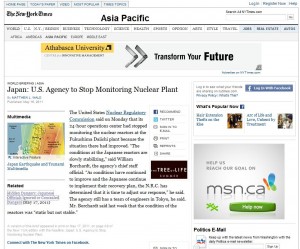 Three blind mice.
See how they run…
Today – May 17, 2011 – the planet watches as three nuclear reactors melt down at Fukushima Daiichi Nuclear Power Plant in Japan.
This major disaster is unprecedented and after two months running, the best minds that nuclear energy is able to muster cannot figure out how to stop it.
Probably the best thing to do at this point is to distance ourselves from the crisis while thanking our lucky stars that it ain't our problem.
And that is exactly what the US Nuclear Regulatory Commission is planning to do.
Nothing.

After all, it's the Japanese who caused this whole thing. Silly war losers.
They should know better than to run with knives…
Thank you, friend.
Barry out.
http://en.wikipedia.org/wiki/Schadenfreude
From the US Nuclear Regulatory Commission website:
Building and maintaining public trust is critical to carrying out NRC's mission.
Article from New York Times revealing this crime against humanity. Who the hail do these folks think they are?

http://www.nytimes.com/2011/05/17/world/asia/17briefs-Fukushima.html?_r=1
Articles confirming our worst fears – three reactors (at least) are in meltdown!
http://www.bellona.org/articles/articles_2011/No1_meltdown_confirmed
http://enenews.com/report-meltdown-confirmation-led-japan-officials-begin-evacuating-tuesday-nuclear-agency-stops-monitoring-fukushima-because-situation-improved
I hope and pray (mostly hope) that the author of this article is nutso but everything he has said during the past two months of this disaster has been VERY SCARY and RIGHT ON THE MONEY. See if he scares you, too!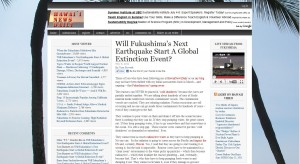 http://hawaiinewsdaily.com/2011/05/will-fukushimas-next-earthquake-start-a-global-extinction-event/