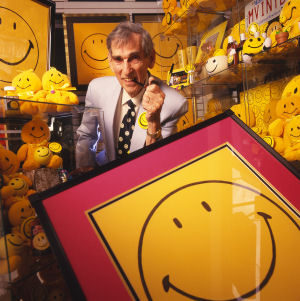 Most folks recognize the smiley face.
They employ it as if it has always
existed which of course it has
and even though the dude
who birthed our current
happy sun type rep is
no longer with us
his commitment to lifting humanity's spirit already dwarfs him.

Thank you, friend.
Barry out.
NOTE: This is not A happy face creator. This is THE happy face creator!
http://en.wikipedia.org/wiki/Harvey_Ball
Why Is The Smiley Face So Important To Walmart?
http://barry-williams.com/blog/employing-workplace-humor-why-is-the-smiley-face-so-important-to-walmart/