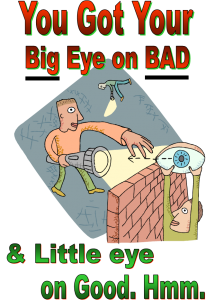 Could you use a hand?
Do the expectations surrounding you seem more suited to a Clone & Kin tag-team than the single round grudge match you signed up for?
If so  – take heed – because the pressure you feel is exactly the same as 90% of your fellow humans, whom like you have sooner or later bitten off more than they could chew or promised waaay more than anyone in their right mind could deliver.
Halt Already With The Bad Seed!

With little awareness of our burden, each of us has been saddled with an overpowering biological mandate to go forth and multiply.
That's our main job.

The fulfillment of this evolutionary compulsion to advance requires a lot more "going forth" than "multiplying" and as a result the vast majority of us are constantly striving without fully comprehending the reasons driving our efforts.
This cognitively limited activity carries with it both fascinating and frightening implications – both of which we should be aware:

The Up Side

Multiplying Positive Intent – Within humans resides an unquenchable need for increase and this compelling desire powers positive commerce and the development of cohesive tribes in every nation. Its this element of human nature which creates the rise of potential employers who originally begin sharing their income in the hope of creating more opportunities, more employees and maybe even another captain to pilot all the ships coming in.
The Down Side
Duplicating Negative Imaginings –

Our desire for increase knows no bounds and as such, we automatically giant size every potential challenge, too. Even military types have begun anticipating this doubling force after observing how some targets seem to possess an ability to dodge bullets. This imaginary

capacity for fate avoidance has encouraged a practice known as "

Double Tapping

" where two rounds are fired in quick succession to ensure that anything in the sight-line has more than one problem heading their way. Nope, one is not enough.

While many people eventually understand that their fantasy life assistant is gonna be a no show, a high percentage of folks still cannot resist the downside of this force and they continue turning every molehill into a ginormous mountain.

Remember What We're Fighting For

Simply knowing that humans have a penchant for multiplicity which tends to lean more towards the downside than the up should be enough to alert us to any negative event being blown out of proportion in our own lives.
I think by now we all agree that when there is only one of us doing all the dodging, we need our "taps" to be as small as possible.
Thank you, friend.
Barry out.
Maybe you have too much time on your hands. If so, take a look at this:

http://en.wikipedia.org/wiki/Double_tap
And take a short listen to Hank Williams Jr. – Hank knows about blowing up life!