Places you might want to awoid cleek here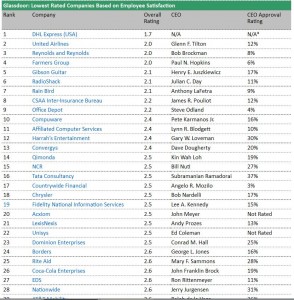 Believe it or not, there was a time before internet (TBI).
Folks back then had only rumors and oral tradition to guide them.
Today we've got something entirely different and incredibly powerful.
This easy to use tool allows us to steer clear of modern minefields.
By knowing who NOT to hang with or accept dough from.
Like goobers who steal souls for meager rations.
For now they will certainly fall extinct.
As we all learn who to avoid.
And whom not to offer.
Our power unless.
Oh ya, da rent.
Thank you, friend.
Barry out.
Who we work for is up to us. Remember that even in the face of rent.
Article about best and worst companies to work for 2009 –
http://www.reuters.com/article/2009/12/16/us-workplace-bestcompanies-list-idUSTRE5BF0MV20091216?pageNumber=4
100 Best Companies To Work For 2010 CNN Money (uh, couldn't be influenced) –
http://money.cnn.com/magazines/fortune/bestcompanies/2010/full_list/
2008 glassdoor.com survey listing the lowest regarded companies of all –
http://www.glassdoor.com/blog/who%e2%80%99s-the-lowest-of-them-all-glassdoor-reports-companies-with-lowest-ratings/