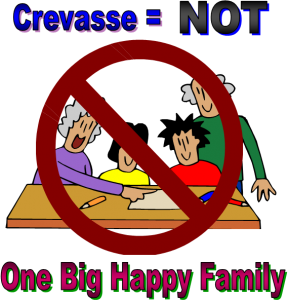 So, you hate your mother?!
Well, familiarity breeds contempt.
I see that you keep the new car spotless while the old auto gathers dust in the back yard. That's familiarity breeding contempt.
You say that last year's wardrobe is garbage because its so "yesterday" but this new outfit you're wearing today is wonderful? Hmm.

Like it or not, waning appreciation is a fact of life and every thing is continuously and contemptuously breaking down all around us.
Who Asked You?

Never were we questioned as to which family we would like to join and yet without any prior input into who we would be calling mom, dad, brother or sister, existence yanked us from nowhere to now here.
And the second we responded to the Big Tug, we owned every situation we encountered and life with all its challenges became ours to navigate, enjoy or endure.
Popping in on folks without warning can be traumatic and as such, families can sometimes wind up comprised of selfish and demanding participants who suffer constantly while striving diligently to ensure that everyone else in the group does too.
People in these situations feel trapped and that horrible sense of being helplessly cornered by folks you care about can be explained with a single word – crevasse.
Crevasse describes the psychological disassociation endured by family members who feel emotionally disconnected from the very group of people they were born into.
The disconcerting confusion that reigns in these traumatic situations is undeniable but becomes more bearable when one  knows that a word exists to describe this seemingly unique situation. (crevasse)

We Will Love Strangers
The completely opposite is true when it comes to choosing cohorts in life.
In a surprisingly short time we can come to know and love strangers as marriage partners, close business associates and true friends in a manner than standoffish blood relatives might find puzzling. This type of relationship too, has a name.

Granfalloon was a term originally employed to describe a proud and meaningless association of humans but over the past few decades it has been the descriptor for the often incredible relationships that develop between unconnected people.

This interpersonal attraction between strangers can be so strong that it is difficult for the participants to comprehend but once again, just knowing this is a normal state of evolution allows for a reduction in guilt or anxiety for anyone with more compassion for their friends than their inherited family.
Life Is What We Call It



Sooner or later, every one of us faces situations where we yearn to know if anyone else experiences life as we do.
Granfalloon and crevasse can help by defining two of life's most perplexing relationship challenges and with this knowledge in mind, we can all love mothers a wee bit more – even if they're not ours…

Thank you, friend.
Barry out.