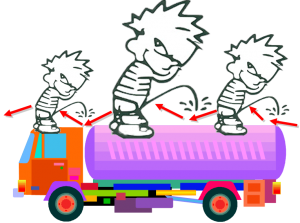 The guys could not wait to urinate on somebody.
Even though I was only twelve years old, I immediately understood that this was a powerful force which would require intelligent and cautious containment.
The wacky discovery revealed itself to me as I recruited my brother into my new gang: The Government Rode Bicycle Club.
In his acceptance speech, recruit #1 challenged the validity of joining any group supporting automatic approval of new affiliates and he began to ponder the deep questions which plague us all; what will change if I join this club? Why would anyone want to hang with the G.R.B.C.?
As fate would have it, recruit #1's contemplation coincided with the club president climbing atop an abandoned oil tanker trailer to relieve his bladder and timing lent itself perfectly to an impromptu and relatively effortless initiation ritual.
To signify inclusion and deter  squeamish applicants, all G.R.B.C. recruits would hereafter be required to navigate a chaotic fluid corridor provided by current club members from an honored perch high atop the tanker.
My brother quickly agreed to perform the edifying maneuver and as he entered the golden tunnel I intuitively added anointing to the process and drenched him appropriately.
Initially, new member #2 was not impressed but after the soon mandatory cooling and stinking down period, he was extremely keen to attract new initiates into our fledgling organization.
I remember being confused about my brother's membership drive motivation but never-the-less, we found comrade #3 that same day and within a week counted most of the neighborhood kids as associates and were fervently "hazing" someone into our midst almost daily.
Tall Hats and Shiny Robes, Flags, Berets and Logos
Hazing or initiation rituals have played an important role in providing context for major life changes since the beginning of time.
For example:
Boy to King / Girl to Queen – Rights Of Passage Initiation ceremonies exist in all cultures.

I Robot – Emotional Desensitizing of Police, Military and Doctors is essential as they are often required to adhere to external codes of conduct in emergency situations.

Semper Fi, Buddy – Developing Group Cohesiveness through hardship creates enduring relationships that can be relied upon in difficult situations. Fair weather friends don't last.

We Are One Together – Hazing Levels The Playing Field and allows everyone to start from the same place. Similar to uniforms, ethics codes or ranks / designations.
Properly managed, hazing provides a clear demarcation to more committed levels of performance and important events in our lives.
You Got To Have A Membership Card To Get Inside
In spite of bad press and 44 states creating laws against initiation rituals, many groups continue to utilize hazing with good results.
Come Out Come Out Wherever You Are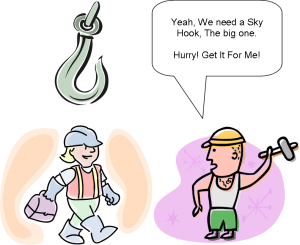 Initiation rituals deserve a proud place in our culture because performed properly, they will serve to develop character and commitment rather than fear and degradation.
And as wacky as some hazings might be, they definitely serve a purpose and have a place in our society.
The folks who think otherwise are all wet or should be 🙂 .
Thank you, friend.
Barry out.