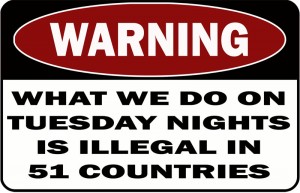 The "right" thing is not always the best thing.
And whether something is right or not is often determined by fairly insane folks.
These queerdos might figure that so-in-so is a witch and with that misguided revelation begin a hunt for supposed evil that spans many destructive decades.
It's not unusual for The Powers That Be (TPTB) to sometimes point a genocidal finger at entire civilizations in newly discovered locales or to alienate a subset of their own culture by associating condescending connotations to epidermal pigmentation.
Sometimes they even go so far as to attach a preposterous value to shiny metals and sparkling stones or heed the stars for heavenly guidance.
At various points in history our handlers have singled out plants or opposing belief systems to indicate wrong from right but however they interpret this reality for their constituents, their standard method of deciphering values seldom remain static for long.
Because legal action and doing the right thing have always teetered on: WHO you are, WHERE you are and WHEN you are.
Just ask the jews and natives and rich fuckers.

Thank you, friend.
Barry out.
Cranberries – Zombie
Another head hangs lowly,
Child is slowly taken.
When the violence causes silence,
Who are we mistaken?
But you see, it's not me, it's not my family.
In your head, in your head they are fighting,
With their tanks and their bombs,
And their bombs and their guns.
In your head, in your head, they are crying…
In your head, in your head,
Zombie, zombie, zombie,
Hey, hey, hey. What's in your head,
In your head,
Zombie, zombie, zombie?
Hey, hey, hey, hey, oh, dou, dou, dou, dou, dou…
Another mother's breakin',
Heart is taken over.
When the vi'lence causes silence,
We must be mistaken.
It's the same old theme since nineteen-sixteen.
In your head, in your head they're still fighting,
With their tanks and their bombs,
And their bombs and their guns.
In your head, in your head, they are dying…
In your head, in your head,
Zombie, zombie, zombie,
Hey, hey, hey. What's in your head,
In your head,
Zombie, zombie, zombie?
Hey, hey, hey, hey, oh, oh, oh,
Oh, oh, oh, oh, hey, oh, ya, ya-a…
Lyrics courtesy: http://www.sing365.com/music/lyric.nsf/Zombie-lyrics-Cranberries/CC6E29633218DB9348256C5300116145
Chumbawamba – Tubthumping
(The truth is, I thought it mattered)
(I thought that music mattered.)
(But does it? Bollocks! Not compared to how people matter)
(We'll be singing, when we're winning, we'll be singing)
I get knocked down, but I get up again
You nay ever gonna keep me down
I get knocked down, but I get up again
You nay ever gonna keep me down
I get knocked down, but I get up again
You nay ever gonna keep me down
I get knocked down, but I get up again
You nay ever gonna keep me down
(Pissing the night away, pissing the night away)
He drinks a Whiskey drink, he drinks a Vodka drink
He drinks a Lager drink, he drinks a Cider drink
He sings the songs that remind him of the good times
He sings the songs that remind him of the better times
(Oh Danny Boy, Danny Boy, Danny Boy)
I get knocked down, but I get up again
You nay ever gonna keep me down
I get knocked down, but I get up again
You nay ever gonna keep me down
I get knocked down, but I get up again
You nay ever gonna keep me down
I get knocked down, but I get up again
You nay ever gonna keep me down
(Pissing the night away, pissing the night away)
He drinks a Whiskey drink, he drinks a Vodka drink
He drinks a Lager drink, he drinks a Cider drink
He sings the songs that remind him of the good times
He sings the songs that remind him of the better times
(Don't cry for me, next door neighbour)
I get knocked down, but I get up again
You nay ever gonna keep me down
I get knocked down, but I get up again
You nay ever gonna keep me down
I get knocked down, but I get up again
You nay ever gonna keep me down
I get knocked down, but I get up again
You nay ever gonna keep me down
I get knocked down, (we'll be singing)
but I get up again
You nay ever gonna keep me down (when we're winning)
I get knocked down, (we'll be singing)
but I get up again
You nay ever gonna keep me down (ooh)
I get knocked down, (we'll be singing)
but I get up again
You nay ever gonna keep me down (when we're winning)
I get knocked down, (we'll be singing)
but I get up again
You nay ever gonna keep me down (ooh)
I get knocked down, (we'll be singing)
But I get up again (pissing the night away)
You nay ever gonna keep me down (when we're winning)
I get knocked down, (we'll be singing)
But I get up again (pissing the night away)
You nay ever gonna keep me down (ooh)
I get knocked down, (we'll be singing)
But I get up again (pissing the night away)
You nay ever gonna keep me down (when we're winning)
I get knocked down, (we'll be singing)
But I get up again (pissing the night away)
You nay ever gonna keep me down (ooh)
I get knocked down, (we'll be singing)
But I get up again (pissing the night away)
You nay ever gonna keep me down (when we're winning)
I get knocked down, (we'll be singing)
But I get up again (pissing the night away)
You nay ever gonna keep me down (ooh)
I get knocked down, (we'll be singing)
But I get up again (pissing the night away)
You nay ever gonna keep me down (when we're winning)
I get knocked down, (we'll be singing)
But I get up again (pissing the night away)
You nay ever gonna keep me down (ooh)
I get knocked down, (we'll be singing)
But I get up again (pissing the night away)
You nay ever gonna keep me down (when we're winning)
I get knocked down, (we'll be singing)
But I get up again (pissing the night away)
You nay ever gonna keep me down (ooh)
I get knocked down, (we'll be singing)
But I get up again (pissing the night away)
You nay ever gonna keep me down (when we're winning)
I get knocked down, (we'll be singing)
But I get up again (pissing the night away)
You nay ever gonna keep me down (ooh)
Lyrics courtesy: http://www.sing365.com/music/lyric.nsf/Tubthumping-lyrics-Chumbawamba/690E046D2241EC78482568E3002CDC0D