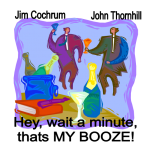 Since joining John Thornhill's Masterclass of online entrepreneurs, I feel different. Very different.
Perhaps its the birds of a feather thing that is getting on me because JT certainly does have some winners hanging with him.
Not much wonder that John Thornhill and Jim Cochrum are friends and I'm honored to be emulating their fantabulous philosophies.
Hip Hip For The New Trip!
Yep, it definitely feels different once a person sets out on the journey of their lives.
For some folks its a trip or a vacation, for others its a calling to perhaps a new vocation or belief system but for me its recognizing the fact that I remember this "new" land we're headed to. I recall the rich, earthy aroma of this wagon and I feel fortunate to be traveling under favorable conditions.
And grateful for not being keel hauled like that last cruise I was on. Oy, those barnacles!
After following through with my mentor's urgings and writing a few blog posts and a couple of ezinearticles, I feel pretty dang good about me. Its a too rare opportunity and one that I intend to peat and re peat.
Built By The Wind
Ideas today are a dime a dozen and in reality much cheaper than that. Lets call it FREE. If ideas are free then we must be living in a time when Connecting The Ideas is where its at!
Whoo Hoo Hoo! That's so easy! Connecting the friggin dots, err, ideas!
I guess you can tell I'm a little excited but traveling with a sure fire wagon train can do that to a person. The only thing I'm concerned about now is where does a pilgrim take a dump out here?
Hmmm. Problems, always problems.
Get yours soon, y'hear?
Thank you, friend.
Barry out.