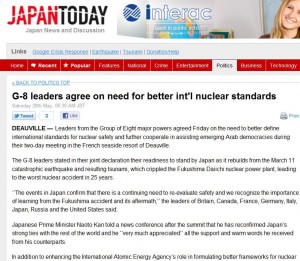 I am sick.
So very, very sick.
Sick and fucking tired of putting up with the shit sandwiches we get fed from our "leaders" about the state of our world.
Today – May 31, 2011 – I found this quotation from an aricle with this title:
G-8 leaders agree on need for better int'l nuclear standards – Japan Today
"The leaders showed their resolve to eradicate any form of inhumane and unjustifiable act and said the killing of al-Qaida chief Osama bin Laden represents a ''significant step in the fight against international terrorism.''

With regard to other regional issues, they denounced the nuclear ambitions of North Korea and Iran." (bold and colors added by me)
NOW the Powers That Be are admitting there are problems in the nuke industry (in North Korea and Iran – not Japan) and that killing certain people is alright?!
Close the corral door if you want fellows but the god damn nuclear cattle and wholesale slaughter of innocents thing are already out!
Thank you, friend.
Barry out.