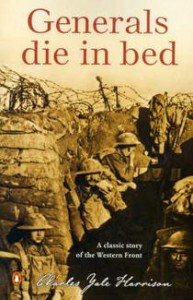 Generals die in bed.
This is the title of a great Canadian book which illuminates grave flaws in our attempt to direct human behavior and ultimately history.
Like the book's author, Charles Yale Harrison, I wonder; by whom and where is it determined that our species requires rulers or the earth's continents need conquering?
No doubt management and military display may have started with the right idea in mind but somewhere along the way things have gone seriously kafluey.
As a result, many good people vanish physically and emotionally into history for the most mind boggling reasons while the sad saps calling the shots slip silently into their heavens, peacefully asleep.
It's quaint, I think. Just far…too…quaint.

Thank you, friend.
Barry out.
You will never view war the same if you invest only one hour in reading this book available free at the link below. Bookmark the site and experience this with your children. Hopefully, it keeps them from the military and management.

Generals Die In Bed – Free online book:
http://gutenberg.net.au/ebooks05/0500061h.html
Thomas Sowell Rocks!
Dead – they're all dead, Jim!
This song illuminates another side of war. The side few of us contemplate.
Tom Waits – The Day After Tomorrow
I got your letter today
And I miss you all so much, here
I can't wait to see you all
And I'm counting the days, dear
I still believe that there's gold
At the end of the world
And I'll come home
To Illinois
On the day after tomorrow
It is so hard
And it's cold here
And I'm tired of taking orders
And I miss old Rockford town
Up by the Wisconsin border
But I miss you won't believe
Shoveling snow and raking leaves
And my plane will touch tomorrow
On the day after tomorrow
I close my eyes
Every night
And I dream that I can hold you
They fill us full of lies
Everyone buys
About what it means to be a soldier
I still don't know how I'm supposed to feel
About all the blood that's been spilled
Look out on the street
Get me back home
On the day after tomorrow
You can't deny
The other side
Don't want to die
Any more than we do
What I'm trying to say,
Is don't they pray
To the same God that we do?
Tell me, how does God choose?
Whose prayers does he refuse?
Who turns the wheel?
And who throws the dice
On the day after tomorrow?
Mmmmmmm…
I'm not fighting
For justice
I am not fighting
For freedom
I am fighting
For my life
And another day
In the world here
I just do what I've been told
You're just the gravel on the road
And the one's that are lucky
One's come home
On the day after tomorrow
And the summer
It too will fade
And with it comes the winter's frost, dear
And I know we too are made
Of all the things that we have lost here
I'll be twenty-one today
I've been saving all my pay
And my plane will touch down
On the day after tomorrow
And my plane it will touch down
On the day after tomorrow
Lyrics courtesy: http://www.oldielyrics.com/lyrics/tom_waits/day_after_tomorrow.html