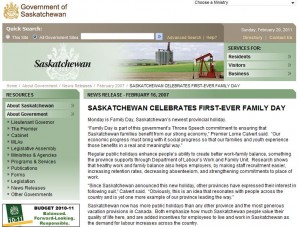 Statutory holidays allowing citizens to be paid for NOT working while spending a designated day with their families are VERY scary for two main reasons:
Who was directing Voter Joe's attention in such a wacky manner that a Family Day becomes necessary?

Will they influence Joe Average's focus toward or away from his family tomorrow?
If everything goes according to plan, that is…

Thank you, friend.
Barry out.
PS. The day off with pay thing is a bait and switch tactic.
There is no such thing as a day off with pay because higher consumer prices to cover increased production costs eliminate any gain.
We are living an illusion…